radius® to go 
BARBEQUE LIT KITS
 radius® to go premium quality Barbeque Lit Kits are now available. Enjoy BBQ season in mouth-watering style. 
To order, text, or phone-in your order to 365-323-7522, Tuesday to Saturday, 3pm to 8pm.
Or you can Order them Online.
Please provide us with one hour to prepare your BBQ Lit Kit,  and pick up your order at radius®; 151 James Street South, Hamilton.
BBQ Lit Kits – radius® to go
Burgers to go
Six 6 oz. radius® Burgers & Cobs Buns
Hawaiian-style Macaroni Salad 500 ml
Roasted Garlic and Gruyere Red Skin Mash 500 ml
Balsamic Vinegar Marinated Vegetables
Chef's Bourbon Barbeque Sauce
70
Striploin Steaks to go
Four 10 oz. Striploins Minimum 45 Days Aged by Cumbrae's
Hawaiian-style Macaroni Salad 500 ml
Roasted Garlic and Gruyere Red Skin Mash 500 ml
Balsamic Vinegar Marinated Vegetables
Chef's Bourbon Barbeque Sauce
125
Tenderloin Steaks to go
Four 7 oz. Tenderloins Minimum 45 Days Aged by Cumbrae's
Hawaiian-style Macaroni Salad 500 ml
Roasted Garlic and Gruyere Red Skin Mash 500 ml
Balsamic Vinegar Marinated Vegetables
Chef's Bourbon Barbeque Sauce
105
Chicken to go
Two Marinated Spatchcock Chickens
 One with lemon, rosemary & garlic marinade
One with  Chipotle, lime, cilantro, spices marinade
Hawaiian-style Macaroni Salad 500 ml
Roasted Garlic and Gruyere Red Skin Mash 500 ml
Balsamic Vinegar Marinated Vegetables
Chef's Bourbon Barbeque Sauce
85
Protein only to go
Four 10 oz. Striploins Minimum 45 Days Aged by Cumbrae's
Four Cedar Brook Acres Heritage Chicken
Four Chassagne Farms Honey Sausage
Chef's Bourbon Barbeque Sauce
160
Wines to go – 750ml – Must be 19+
White Wine to go
2016 Sauvignon Blanc, Creekside, Creek Shores, Niagara | 35
2016 Riesling, Tawse Winery, Twenty Mile Bench, Niagara | 35
2016 Pinot Grigio, La Delizia, Friuli Grave, Italy   | 30
2015 Sauvignon Blanc, Big Head Winery, Niagara on the Lake  | 35
2016 Chenin Blanc, Big Head Winery, Niagara on the Lake  | 40
Red Wine to go
2015 Cabernet Sauvignon, Leaping Horse, California, U.S.A   | 35
2015 Merlot, Seven Peaks, California, U.S.A   | 35
2016 Select Blend, Big Head, Niagara on the Lake   | 45
2015 Malbec, Bodega Toneles, Mendoza, Argentina | 35
2013 Amarone della Valpolicella, Zardini, Italy   | 70
2016 Tignaello Antinori, Toscana, Italy  | 150
Rose Wine to go
2016 Ladybug Rose, Malivoire, Beamsville  | 25
Bubbles to go
NV Prosecco, Cabert Winery, Friuli, Italy  | 35
NV Champagne, Moët & Chandon, Brut Imperial, France  | 110
2007 Champagne, Dom Pérignon, France | 350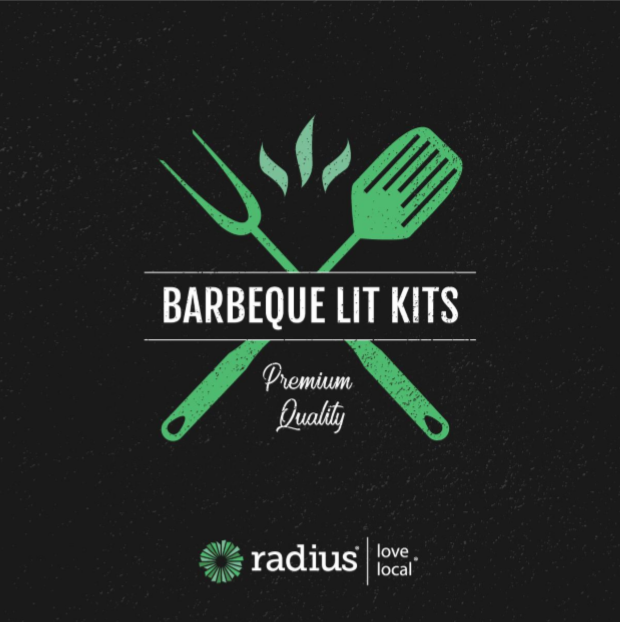 Take-out is new for us, so if there are any issues, please contact Dan Trevisani at dan@radius.ca, or 905-818-6054