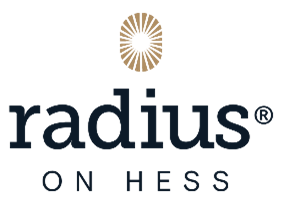 radius® TO OPEN NEW LOCATION IN BURLINGTON
Hamilton, Ontario, October 4, 2023 – The restaurant scene is always evolving, and so is radius®. True Sports & Hospitality is delighted to announce that we will be adding a new radius® location in Burlington at 455 Brant Street.
"Together with our Team at radius®, we're thrilled to become part of the thriving Burlington community.
We've always loved the magic, and charm of Brant Street, and have been fans of many of the businesses that will now be our Neighbours," said Chelsea Ladd, Managing Partner of radius® on Brant. Our entire Team is committed to providing remarkable food, service, and experiences to our Guests; exactly as we have during the last decade in Hamilton. We have many existing Burlington Customers, so we are glad that their travel time will be reduced, and hopefully they will help us spread some positive momentum.
The new Brant location will have 80 interior seats, and 30 patio seats offering lunch and dinner service.
Our vibe dining experience will continue at this new location, along with an after dark lounge. "When our Team walked into this new location on Brant, we instantly felt a connection, as there were elements such as exposed brick, and a grand bar that felt like radius®. This new location gives us a fresh, adventurous, new opportunity for our group," added Ladd. "Our Executive Chef Dan Burcher, our Culinary Team, and Front of House and Events Team led by Matthew Bidwell, have already put the wheels in motion. Our Guests revel in things uniquely made, and done extremely well, and we want to ensure we live up to that reputation."
Our slogan, love local® is integral to our business model and Team, and we believe the Burlington community will value that commitment. We are currently seeking small business owners, entertainers and non-profit organizations in the Burlington market that are interested in collaborating with us on menu items, experiences, our love local® holiday gifts and our charitable giving program. Through our daytime menu, we give back $1 per meal to non-profit organizations, and we are committed to donating $20,000 annually from this new location. Please email [email protected] to get involved. We look forward to creating new memories, experiences, and stories at this new Burlington location.
True Sports & Hospitality is a local leader in providing a world of enjoyment, achievement, memories, and togetherness for all Customers, while instilling pride in its Team, and caring deeply about its Community, The group operates radius® Restaurant & Bar on Hess in Hamilton, Southbrook Golf & Country Club in Binbrook, Beechwood Golf & Social House in Niagara Falls, and now radius® on Brant in Burlington. True celebrates the vibrant Members of its Family – its Team, Customers, Business Partners, and Community, and connects love local® to all elements of its establishments. If it isn't going to be remarkable, or make a difference, then they won't be interested.
Contact: Lisa Mercanti-Ladd
Phone: 905-818-3407
Email: [email protected]