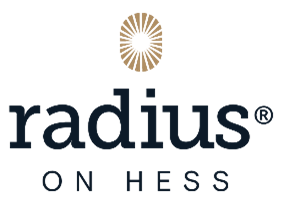 radius® TO RELOCATE TO HESS VILLAGE
Hamilton, Ontario, April 20, 2023 – The restaurant scene is always evolving in Hamilton, and so is radius®.  True Sports & Hospitality is delighted to announce that we will be relocating our award-winning radius® restaurant from 151 James Street South to 18 Hess Street South this summer.  They also plan to add a second location within Hamilton or the surrounding area in the next year.
"Together with our entire radius® Team, we're thrilled to embark on a new era of growth and innovation.  In the hospitality industry, and in business, change is constant, and we must keep evolving, and reimagining to keep the experience exciting and memorable for all of our valued Guests, the Team, and the thriving Hamilton Community that we are so proud to be part of!", said Dan Trevisani, General Manager, and Managing Partner of radius®.
On June 1, 2023, our new home will be 18 Hess Street South.  We are extremely honoured to have served so many Guests, and this Community over the last decade on James Street South, and we will be forever grateful for those who supported us; especially during the last few years of the pandemic.  This new change gives us a fresh, adventurous, and effective space for our Team, and Guests.
Why Hess Village?  First, we love Hamilton, and its downtown core.  Hess has so much charm, and history, and we were drawn to the vision of making this street a go-to for elevated dining, and entertainment experiences.  radius® is known for vibe dining, and we think the brand fits perfectly in this area, amongst the existing amazing businesses.  This location has a beautiful private event space on the upper level with exposed brick, a full bar, and windows that open to overlook the street.  The restaurant will be about the same size, as the existing radius®, and will, of course, have a spacious outdoor patio; something radius® is known for.
We will remain in our James Street South location until June 1, 2023, and it will be business as usual.  We will make it the greatest few weeks ever, and we invite you to join us.  Although we will eventually miss 151 James Street South, we look forward to creating new memories, experiences, and stories at our new locations.  "With passion and dedication, we're ready to take on the future and deliver exceptional experiences, with a radius® vibe of course, "adds Trevisani. In the upcoming weeks, the group plans to share some further news about some new product offerings that we know their Guests will love.
True Sports & Hospitality is a local leader in providing a world of enjoyment, achievement, memories, and togetherness for all Customers, while instilling pride in its Team, and caring deeply about its Community.  The group operates radius® Restaurant & Bar, Southbrook Golf & Country Club in Binbrook, and Beechwood Golf & Social House in Niagara Falls.  True celebrates the vibrant Members of its Family – its Team, Customers, Business Partners, and Community, and connects love local® to all elements of its establishments.  If it isn't going to be remarkable, or make a difference, then they won't be interested.
Contact: Lisa Mercanti-Ladd
Phone: 905-818-3407
Email: [email protected]